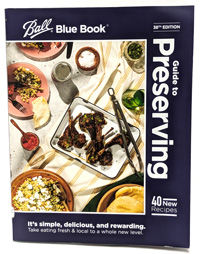 The latest Ball Blue Book Guide to Preserving.
A Guide to Home Canning, Freezing, & Dehydration.
The Ball Blue Book is an all-inclusive source book on the topics of Home Canning, Dehydration, and Freezing. From the basics to advanced techniques, this guide is sure to please everyone who preserves their own foods. In the pages of the Ball Blue Book you can find Instructions, How-To's, Recipes, Lists, Charts, and much more. 200 pages with over 500 recipes including over 75 new recipes. This is the classic American guide to keeping fresh tasting food on hand. Brand new edition with a 2014 copyright date.

This soft back, full color, book takes you step-by-step through the essentials of canning while giving you the knowledge to ensure the quality of your preserved food. Includes altitude adjustments and pre-canning planning. Guides you through what canning items are and how to use them. The Ball Blue Book includes instructions on water bath canning, pressure canning, dehydration and re-hydration, vacuum packing, and freezing. It also covers high and low acidic foods, pickled foods, spreads, meats, fish, fruits, and vegetables. Shows step-by-step guides on canning tomatoes and green beans and more with photos to guide you through the whole process. Includes special diets and problem solving, and solutions to the modern day busy lifestyle. Easy to follow recipes for the beginner and the expert alike. This is a must have for every preserving kitchen.

Ball Blue Book 37th Edition
Item Number: Opcb21411

Price: $12.99


Shipping Weight: 1 lbs



My mom always had one of these on hand so when I started getting back to my canning roots I decided I would get one too. I have had to go back to this book time and time again for over three years now and don't know what I would do without it.