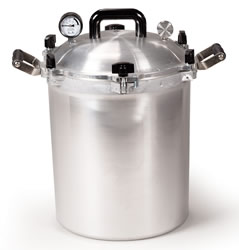 Stove Suitability: Gas: Yes | Electric: Yes | Flat Top/Glass: No**

**A Note About Stoves: The diameter of the cooker may be larger than most burners and may cause heat to transfer outward and damage surrounding surfaces like countertops if they are too close. Check your stove's weight limit with the manufacturer before using any heavy pots like All American Cookers on glass top or flat ranges to prevent glass/ceramic breakage.

The listed cooker weight does not include jars or water. When jars and water are added, the 930 cooker can increase in weight by approximately 40 to 50 pounds.

All American Pressure Cookers are intended and manufactured for home use. They are not intended for commercial applications.
The All American line of pressure cookers offers the best and safest method for home canning. The U.S.D.A. recommends that pressure canning is the only way to can meat, fish, poultry and all vegetables. The All American 930 has the capacity needed for preparing large quantities of food and pressure cooking inexpensive meat cuts to juicy tenderness in a short time. Only All American Pressure Cookers feature an exclusive, precision machined "Metal-to-Metal" sealing system. Positive action clamping locks align the cover to the base forming a steam tight seal. Because no gasket is involved, the cover is always easily opened and closed.
The All American Pressure Cooker 930 30 Quart features:
Professional quality, extra heavy duty cast aluminum construction throughout for fast & even heating
Stay-cool bakelite top handle
Geared steam gauge
Equipped with 2 automatic venting features which provide an extra margin of safety (the safety control valve & overpressure plug)
Pressure regulator weight with settings of 5, 10 and 15 psi
Smooth, easy to clean satin finish
Double thickness edges for additional protection on points of heaviest wear

All American Pressure Cooker 930 30 Quart
Item Number: OpcAA930

Price: $499.95
Out of Stock
Available for Backorder
ETA: Will ship in 20 business days



Free Shipping
to contiguous United States

Shipping Weight: 30 lbs


Includes cooking/canning rack and instruction & recipe book
Capacity - 30 Quarts (Liquid), 19 Pint Jars, 14 Quart Jars
Inside diameter - 12 5/8 inches
Inside Height - 14 inches
Overall Height - 19 inches
Bottom Exterior Diameter - 15 3/8"**
Bottom Thickness - 3/8"
Empty Assembled Weight - 29 Lbs**
*Jar capacities are based on round regular mouth standard Mason jar sizes.
Made in the U.S.A.
1 Year Limited Manufacturer's Warranty
Underwriters Laboratories Listed