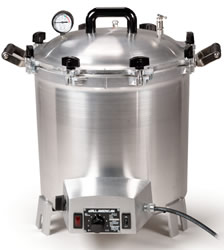 Also available for this item:

All American 4180 Support Base for 75X Sterilizer
For a closer look at this sterilizer click the picture.
The All American Electric Sterilizer 75X-120V is a self-contained unit including an immersion heating element, automatic thermostatic control, automatic release valve, and pilot light. It connects to any outlet, is ready for use instantly, and ensures complete, efficient sterilization. Only All American Sterilizers feature an exclusive, precision machined "Metal-to-Metal" sealing system. Positive action clamping locks align the cover to the base forming a steam tight seal. Because no gasket is involved, the cover is always easily opened and closed.
The All American Electric Sterilizer 75X-120V features:
Suitable for dental, medical, veterinary facilities, laboratories and health and cosmetic applications
Calrod immersion 1650 watt heating element , 50% faster startup than 25X
36% greater heating capability compared to 25X
64% greater capacity compared to 25X
Crafted of the finest hand cast aluminum that resists aging and corrosion


Interior stainless steel support stand
Stay-cool bakelite top handles and wing nuts
Removable aluminum inner container with rack
Portable, economical, reliable operation
More accurate TPI thermocouple, snapswitch and pilot light
Flexible metal exhaust tube
Pressure gauge conforms to the pressure gauge standard ANSI B40-1-1980
60 minute mechanical timer

All American Electric Sterilizer 75X-120V
Item Number: OAA75X120

Price: $1119.95


Please note: Returned sterilizers must be in new unused condition, will be charged a 20% restocking fee and shipping cost is non-refundable. Sterilizers cannot be shipped to Canada or Europe as we do not have the CSA certification.

Only a small amount of water is needed to create the dry steam. After achieving a minimum temperature of 250°F(121°C), and a pressure of 17psi, the dry steam penetrates the bandages or instruments, making them sterile in 35 minutes and ready for immediate use. No wiping is necessary to remove chemical residue or moisture, and cutting edges are not dulled.
Includes removable aluminum inner container with rack and instruction book
Sterilizer
120 Volt, 50/60 Hz
1650 watts/13.75 amps
Capacity - 41 1/2 Quarts (Liquid)
Overall Height - 19 inches
Bottom Height - 14 1/4 inches
Inside Diameter - 15 1/4 inches
Inner Container
Inside Depth - 10 1/4 inches
Inside Diameter - 14 inches
Circumference - 44 1/2 inches
Capacity - 27.3 Qt Inner Container Capacity
Made in the U.S.A.
1 Year Limited Manufacturer's Warranty
Underwriters Laboratories Listed