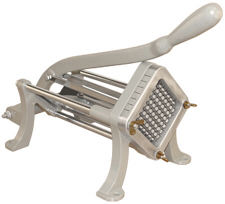 Also available for this item:

Weston French Fry Cutter Accessories
This restaurant quality Weston French Fry Cutter will allow you to make perfect french fries for years. Includes a 3/8" cutting blade (optional blades available) and long lever for easy, quick cutting. This cutter is used by restaurants worldwide. Mounts vertically or horizontally to a sturdy surface. May be mounted by screws, bolts or temporarily secured with optional suction feet.
The Weston French Fry Cutter features:
Cuts up to 50lbs of potatoes in an hour
Easily cuts 6" potatoes into french fries
Wall or Counter Mount
Heavy-duty cast-iron body with Stainless Steel components
Disassembles for easy clean-up
Measures 21.3 X 10 X 9.4"
Lever measures 17"

Weston French Fry Cutter
Item Number: OWS363501W

Price: $77.49


Shipping Weight: 14 lbs