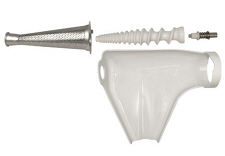 Weston Tomato & Fruit Strainer Attachment
Screen, Auger, and Chute separate the skin and seeds from the juice and pulp. Make healthy, homemade, sauces, jams, jellies, wines, juices, and even purees for baby foods quickly and easily with this attachment.
OWS820104W
4 lbs
$20.99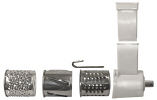 Weston Shredder/Slicer Attachment Kit
Fine Shredder for cheese, garlic & nuts. Slicer for cheese, vegetables & fruits. Coarse Shredder for potatoes, cheese & vegetables. 6 piece kit.
OWS820105W
5 lbs
$23.99


Weston 3-Pc Funnel Set w/Star
This set includes everything you need to convert your meat grinder into a Sausage Stuffer.
The 3-Pc Funnel Set w/Star Kit includes:
3 Funnels Made with High Density Polyethylene for Durability & Long Life:
3mm
18mm
20mm
For making sausages, frankfurters, snack sticks and many other meat products.
Universal Funnel Flange and Stuffing Star
To stabilize the grinder's auger and all necessary flanges to easily attach the funnel to the grinder.
OWS360517
3.5 lbs
$8.99